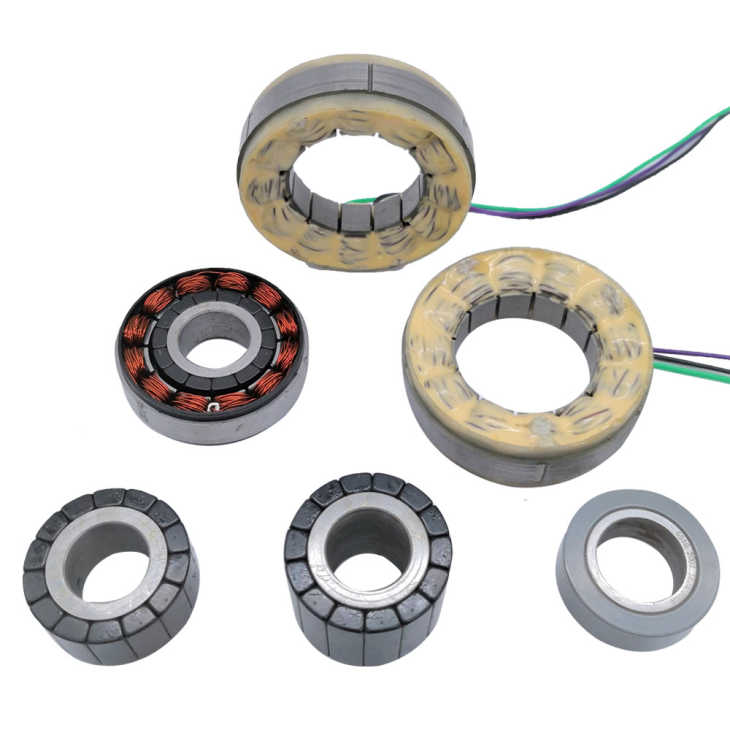 Brushless DC frameless torque motor
Product Details
I. Product Features
Brushless DC Frameless Torque Motors Frameless torque motors that incorporate indirect drive skills can be indirectly embedded outside the equipment. The DC brushless frameless torque motor product is used to request the motor volume to be loose, sinking, low inertia, but high power utilization. The DC brushless frameless torque motor is used in products such as robot hubs, motor integration equipment, and test equipment.
DC Brushless Frameless Torque Motors are computer designed and optimized to provide the highest torque density brushless torque motors. DC brushless frameless torque motors pay special attention to minimizing cogging torque to improve performance in precision applications. It is a thin ring motor, length ratio, and is intended to be directly integrated into the mechanism, effectively eliminating the torsional resonance of the coupling and backlash associated with the gear train. They are usually mounted directly on the driven shaft, and their large openings allow electrical wiring through the system, fluid piping or beams passing through the center of the motor.
DC brushless frameless torque motor is used in smart home, communication antenna, automotive transmission, electronic products, household appliances, office equipment, robot transmission, industrial automation and other fields.

Second, product specifications
| | | | | | | | | | | | | | |
| --- | --- | --- | --- | --- | --- | --- | --- | --- | --- | --- | --- | --- | --- |
| | Units | Tolerance | YDP2-M1 | YDP2-M2 | YDP2-M3 | YDP2-M4 | YDP6-M1 | YDP6 -M2 | YDP6-M3 | YDP6-M4 | YDP6-M5 | YDP6-M6 | YDP6-M7 |
| A | Φmm | | 65 | 76 | 95 | 120 | 50 | 56 | 60 | 60 | 76 | 96 | 118 |
| B | mm | | 20 | 35.2 | 40.2 | 33.2 | 16 | 21.5 | 30 | 30.48 | 31.46 | 35.6 | 53.5 |
| C | mm | | 10.5 | 25.4 | 22.86 | 9.4 | 13.97 | 22.86 | 22.86 | 22.86 | 25.4 | 38.1 | |
| D | mm | | 11.68 | 20.5 | 34.8 | 28 | 12.4 | 16.97 | 25.86 | 25.86 | 25.86 | 28.4 | 41.1 |
| E | Φ mm | | 20 | 30 | 40 | 18 | 18 | 18 | 25 | 40 | 60. | 60 | |
| Voltage<> | Volts DC | | 48 | 48 | 48 | 48 | 48 | 48 | 48 | 48 | 48 | 48 | 48 |
| Peak Torque | Nm | | 1.15 | 3.4 | 4.5 | 6.5 | 0.35 | 1.2 | 2.5 | 2.5 | 3.5 | 6.72 | 20 |
| No Load Speed | | 5000 | 2500 | 3600 | 2500 | 3000 | 3000 | 3000 | 3000 | 3000 | 3000 | 3000 | |
| Torque Sensitivit | Nm / Amp | ±10% | 0.09 | 0.19 | 0.12 | 0.2 | 0.14 | 0.141 | 0.127 | 0.148 | 0.148 | 0.15 | 0.148 |
| BackEMF Constant | Volts / Krmp | ±10% | 9.5 | 19 | 13 | 22 | 15 | 16 | 14.8 | 15.5 | 15.5 | 15.6 | 15 |
| Motor Resistance | Ohms | ±12.5% | 0.45 | 0.5 | 0.1 | 0.6 | 4.31 | 2.26 | 0.82 | 1.17 | 0.37 | 0.1 | 0.04 |
| Motor Inductance | mH | ±30% | 1.24 | 2.0 | 0.15 | 0.25 | 2.94 | 2.34 | 1.02 | 0.9 | 0.61 | 0.2 | 0.17 |
| Motor Constant | Nm /√ Watts | | 0.135 | 0.25 | 0.41 | 0.81 | 0.068 | 0.057 | 0.008 | 0.073 | 0.14 | 0.24 | 0.51 |
| Rotor Inertia | kg - m | | 9.3×10 | 7.8×10-5 | 12×10-5 | 42×10-5 | 8.5×10-6 | 1.7×10-5 | 3.39×10-5 | 4.3×10-5 | 1.2×10-4 | 6.4×10 -4 | 7.2×10-4 |
| Weight | Kg | ~ | 0.18 | 0.7 | 1.5 | 1.7 | 0.12 | 0.25 | 0.38 | 0.35 | 0.5 | 1.1 | 2.1 |
| | | | | | | | | | | | | | |
Three, product size chart
Four Product Insight
(brushless DC frameless torque motor brushless DC frameless torque motor physical map)
V. Product Application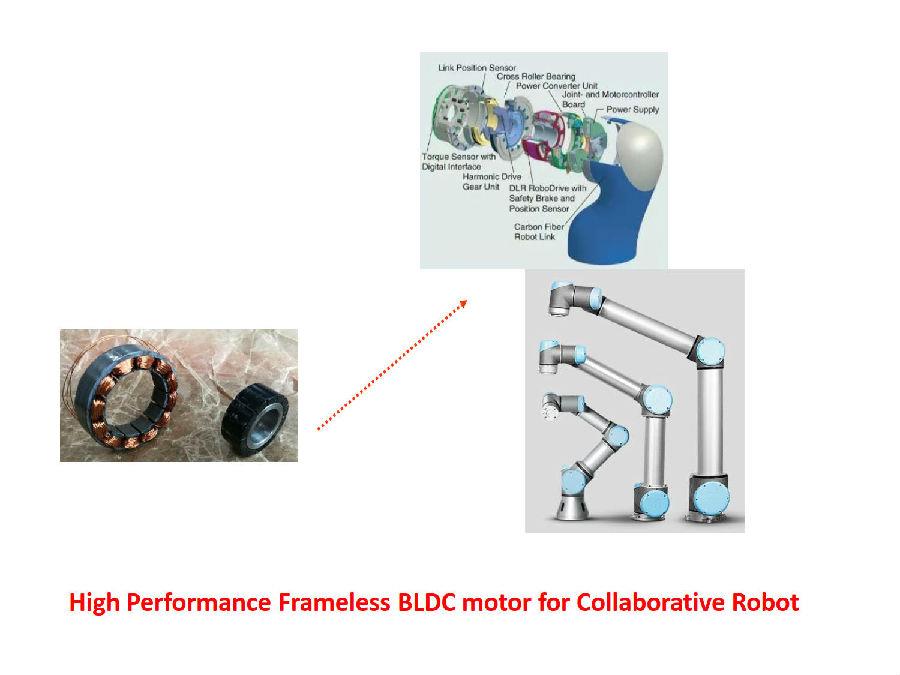 Inquiry